Sky is the limit when it comes to building a loyal customer base, boosting sales, and generating higher ROI for your eCommerce business. With the help of an eCommerce app, you can do it all, and the pandemic has proved the same.
Having a mobile application brings many benefits to the table, such as 24*7 accessibility, cross-border trade, and improved user experience enabling consumers worldwide to buy products on the go without stepping out of their homes.
The pandemic has shone significant light on the "convenience" bit in the past year. No wonder global eCommerce sales through smartphones are expected to reach $3.5 trillion in 2021.
Types of eCommerce mobile apps
Without a doubt, mobile apps drive the boom in eCommerce and cater to different industry niches and user purposes.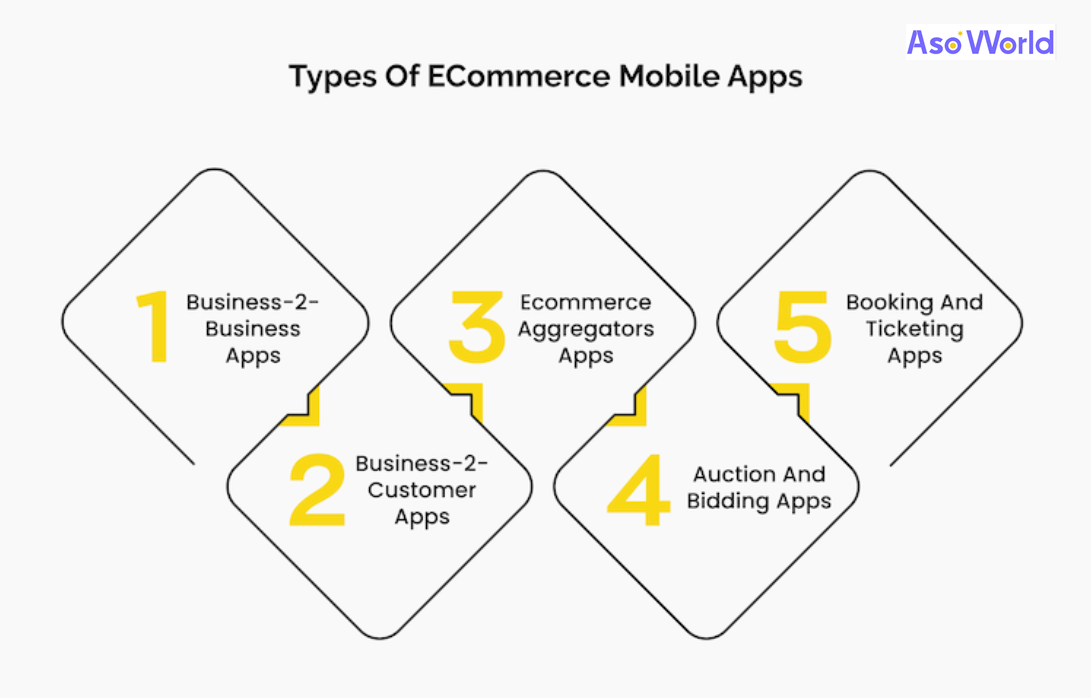 Business-2-Business apps
As the name suggests, these mobile applications are used for businesses, manufacturers, distributors, retailers, and resellers to trade with each other. These platforms can have multiple sellers listing their products or only a single seller offering its products in large quantities at lower prices. Alibaba is a famous example of B2B apps.
Business-2-Customer apps
Such apps are most common in the eCommerce ecosystem and enable online stores to sell goods and services directly to end-users. You can either develop a B2C marketplace like Amazon or sell niche-based products related to a specific industry.
eCommerce aggregators app
These not-so-popular apps list down services from various local businesses. This gives consumers access to a centralized platform and helps them buy a product or service in their location. Examples include Ubereats and Uber.
Auction and bidding apps
Such eCommerce apps allow users to place an auction on their products so that others can bid on them — thus bringing down the price for auction venues and auctioneers. eBay is a popular example of the same.
Booking and ticketing apps
Such mobile apps let consumers book tickets online, from live concerts and movies to hotels and theatre play. They provide a platform for an easy booking process between the end-users and the event organizers. Some of the major players in this niche are TripAdvisor and AMC Theatres.
Should you invest in an eCommerce app?
Absolutely! If we talk numbers, then experts predict 95% of the total purchases would be done online by 2040. An Adobe study found that for every GBP 10 spent online during the holiday season, GBP 4.10 came from mobile purchases.
This is not surprising since the number of smartphone users is expected to touch 3.8 billion this year, and 90% of mobile time is spent on eCommerce apps — browsing through and shopping. Therefore, it is feasible for any eCommerce business to reach its audience via mobile apps.
Six factors to consider before developing an eCommerce app
If you are interested in taking your eCommerce business to the next level with an app, this complete app development guide is for you. Here is what to consider during the eCommerce app development process:
Conduct thorough market research
Before you get down to business, it is essential to analyze the market properly. You must have clarity on the actual requirements of your target audience. This will also help you make better decisions about designing and structuring the UI/UX of the app and framing a better marketing strategy when it is time to launch it.
Study your competitors
Analyzing the strengths and weaknesses of your competitors is something that cannot be ignored. If you want to gain a competitive edge, study who they are targeting, listed products and discount offers, their customer support's efficiency, online customer feedback (Google reviews, TrustPilot, Clutch), social media marketing strategy, and so on.
Create buyer personas
If you do not know who your app is catering to, all efforts are in vain. Hence, specify your target audience. Consider all critical components such as demographics, economic background, hobbies and interests, and so on to create the ideal target customer. To buy keyword downloads ios on ASOWorld app promotion platform to witness the changes.
Understand their needs and motivations along with the factors influencing their buying behavior. This will help you design your app in a certain way and plan long-term strategies regarding boosting customer acquisition, engagement, and sales.
Assign a budget for the app
You have to consider the monetary side of things before planning anything. The eCommerce app development cost should be decided after considering the type of app you want and the ROI you want to achieve. Moreover, your app's functionality and offerings influence the budget. If you want something high-tech, obviously, your budget is going to be high.
Choose the perfect mobile app platform
The agile app development methodology evolves rapidly, and choosing a platform that meets the latest technical requirements is necessary. The two major operating systems for smartphones are Android and iOS, and to get a wider audience, you must get your eCommerce app developed for both.
Furthermore, it should be compatible with IoT devices such as smartwatches as many people increasingly order products from such devices. You can choose ASOWorld mobile app platform to promote your app with professional techs.

Focus on the app's wireframe
Structure the app's wireframe in such a way that includes multiple categories, sub-categories, and pages. Design the navigation, redirects, and CTAs properly, and get your team members' feedback as well. Think about how first-time users will create the design of your shopping app.
If they feel confused after landing on the home page because of unordered elements, poor color scheme, and lack of CTAs, they will bounce off and even uninstall the app. Therefore, create the UX/UI design of your app by keeping user behavior in mind.
Ten features your eCommerce app must have
Now that you have laid down the basics for the working of an eCommerce app, here are ten elements that you must include at all times:
Admin panel
A panel allows you to manage what is going on with your app, such as adding and hiding product categories, solving customer issues, updating pictures, and so on. It also gives you insight into app usage and performance analytics.
Intuitive UI/UX design
Prioritizing on this element will help you achieve an eCommerce app that interacts well with customers. It is essential to consider the app's UI/UX because a consumer's attention span on mobile is only eight seconds.
Therefore, your app design should show all the information upfront in the form of powerful imagery and text. An ideal design will allow consumers to ignore hindering elements such as CTAs without hampering their browsing experience. Furthermore, headings, categories, sub-categories, and scroll bars in the app should be appropriately balanced.
Push notifications
Believe it or not — push is still an effective way to enable eCommerce apps to connect directly and interact with their target audience. Besides, push notifications help keep them updated about limited-period offers, new product information, company news, and so on.
Besides, you get an opportunity to cross-sell and up-sell products to get a better profit margin. According to AdWeek, push notifications experience almost double click-through rates as compared to email. If you want to increase your conversions via the app, push is the way!
Social media integration
Nowadays, it has become necessary for businesses to take advantage of social media to engage with their target audience on eCommerce platforms and convert them into loyal customers.
Reports show that 93% of consumers admit their decision to purchase a product is influenced by a specific brand's social media content.
Therefore, by integrating your eCommerce app with platforms such as Facebook, LinkedIn, and Twitter, you can share your special discounts on their accounts. This merely helps in increasing your brand presence and sales.
High-quality yet compressed graphics
Imagery is everything in this day and age. Powerful photos virtually represent your products to the consumers, and you should never compromise on their quality. Therefore, make sure you only put up high-resolution photos and videos on the app, perfectly representing your offerings.
Furthermore, it is necessary to compress your graphics' size so that they load faster on the app and do not hamper the SEO. For instance, it is suggested to convert the .png format of the images to .jpeg as it is more lightweight.
User feedback
Having a section on the app that allows users to give reviews for your products or services is essential. That helps in converting new users and is also beneficial for you to get real insight on where you are going right and where you need to improve.
Moreover, your customers will appreciate that you are open to getting their feedback for the betterment of your eCommerce app (and offerings). Therefore, ensure eCommerce app development services include this feature.
Real-time analytics
By integrating analytical tools such as Google analytics with your mobile application, you can get real-time insight into customer behavior on the app — regarding total transactions in a specific timeframe, app bounce and exit rates, most-purchased products, most visited pages, and more. To learn more aso google play store strategy on the ASOWorld platform and other guides.
This data can be utilized to improve the end-user experience. This data can be further used to enhance banner copies, CTA placements, remove or include specific imagery, and help you build a far more effective marketing strategy.
Dynamic wishlists
Adding a wishlist in the app helps in increasing conversions. It allows your customers to add products to the cart and buy them as and when needed. Moreover, it will enable them to create a personalized collection of the products they like on your eCommerce app.
You can make your wish lists more intuitive by allowing your customers to name them. Furthermore, include a share button to help them share their wishlists with friends and family.
Multiple payment gateways
In a group of 10 consumers, you will find not all use the same payment option for completing a purchase. Some would like COD; others would prefer using credit cards or PayPal.
Therefore, your eCommerce mobile app should have multiple payment gateways that allow everyone to transact easily. Please ensure the options are safe and secure as they may impact your brand reputation.
Chatbots
A chatbot is probably one of the best AI-powered tools in use as of today. By providing 24*7 customer support and useful answers instantly, a chatbot helps eCommerce mobile apps become more accessible. It saves a lot of money by preventing you from hiring a customer support executive and dealing with various customers parallelly.
Technologies to integrate to enhance the shopping experience

Despite covering the basics in your app, success cannot be guaranteed. Many retailers fail because there is a disconnect with how their consumers' shop. Keeping up with various technologies can help bridge this gap to a great extent:
AR/VR
Integrating your eCommerce mobile app with various augmented reality features can significantly improve how customers view and buy your offerings. Since your products will be displayed in 3D, you can create a virtual showroom where customers can try spectacles, clothing, or any makeup item through a selfie or check how a specific furniture piece will look in their living room, pointing the camera at the latter.
Visual search
This feature allows shopping customers to shop with a mobile camera. It will enable them to upload images from any social media profile, mobile photo library, or web page.
Look for similar products on your eCommerce app through the embedded visual search — in terms of color, shape, and size.
This is a growing trend in the online world as Gen Z and millennials prefer visual search capabilities to create a retail app. Pinterest is steadily using this technology in its mobile app.
One-click purchases in-app
Barilliance reports that when something is placed in the app's shopping cart, it never gets purchased 85.6% of the time. To overcome cart abandonment, a one-click purchase is exceptionally beneficial. Amazon was the first company to include this feature in its app.
However, this technology is relatively easy to implement. It allows consumers to purchase products instantly on the product page without going the extra step of adding them into the cart and then heading to the checkout process.
Product tagging on social media
Imagine being able to click on the photograph of a pair of sunglasses you see someone wearing on Instagram and for your mobile device to take you to the product page immediately.
Through product tagging on social media (e.g., Instagram and Pinterest), not only can you take the consumers to your product pages but also suggest additional items based on their preferences on social media. Again — AI is taking the lead in this technology.
PWA development
A Progressive Web Application is a type of app delivered through the web and built using standard web technologies such as HTML, JavaScript, and CSS.
Many eCommerce stores use PWAs to boost site traction because they are compatible with most mobile devices and browsers. They behave like native apps, load even when there is no network, and are not required to be installed.
A typical tech stack for an eCommerce app
A tech stack refers to the set of tools, libraries, frameworks, servers, UI/UX solutions, and programming languages used by developers to build an eCommerce app.
Choose a proven and modern tech stack that offers you the best performance in application speed, security, customization, and scalability.
Front-end technologies
The front-end is the client-facing suite of tools used in eCommerce app development. Three major technologies that are used alongside each other are:
HTML
JavaScript libraries (Angular, Vue, React)
CSS
Besides, LESS, SCSS, and SASS are also used for client-facing app development. The application is executed with the help of tools such as Crunt, Gulp, and WebPack.
Back-end technologies
The back-end or the server-facing part of your eCommerce application contains a set of tools and frameworks to perform several functions such as order and inventory management, SEO audits, website editing, payment gateway integration, and user registration, among others.
The leading back-end technologies are:
Operating systems
Choosing the right OS is the first step to take to develop an eCommerce app. Here are the major options to choose from:
Apple macOS
Microsoft Windows
Google's Android
Linux OS
Web server infrastructure
These are the software solutions that take requests from the users, analyze them, and then provide the requested document's output. The two central open-source and free web servers are Apache and Nginx. Among these two, Nginx is ideal for high-volume applications as it efficiently processes an unlimited number of requests simultaneously.
Database management system
Through the database, you can manage and process data points. Some of the widely-used databases are:
MySQL
Firebase database by Google
DynamoDB by Amazon
MongoDB
PostgreSQL
Storage requirements
As the name suggests, such solutions store all types of information regarding your app:
Cloud Storage for Firebase
AWS S3 Amazon Simple Storage Solution
Programming languages
The following languages are used in the back-end to command eCommerce applications to do whatever is desired.
Java
Ruby
Scala
Python
PHP
Partner with an eCommerce application development company
We are sure you agree that developing an eCommerce app for success is a challenging task. However, it is impossible to follow the tips mentioned earlier and deploy state-of-the-art technologies and capabilities.
But if you do not want the headache of creating an app on your own, you can always choose to hire a company that works with the latest eCommerce app technology.